Welcome to OneFeather's guide to online voting! This guide covers the four parts of online voting events—from start to finish.
In this article:
Part 2: Setting up Your Active Nation
Part 3: Creating a Voting Event
Part 4: Managing the Voting Process
---
Part 1 - Signing In
To log into OneFeather at https://www.onefeather.ca/admin
Once you are logged in you will be taken to page with a list of Active Nations
Click your nation from this list.
You will be taken to your nation's Admin Page.
As your Nation's Account Administrator, here you can manage the details of your account.
---
Part 2 - Setting Up your Active Nation
To set up your nation on OneFeather you need to create your Team, Public Landing Page and your Member List.
Create Your Team
To create your community Team, click the Actions button in the top right of your nation's Admin Page.

Here you will see an dropdown menu. Click Manage Team.
Here you can add, delete and edit your organization's team.
To Add team members, click the Invite New Member button on the top right.
Input the new member's information and select their Role from the drop-down menu. Read more about team roles here.
Review and select/deselect the new member's notification email settings.
Click Send Invite.
An email invitation will be sent to your new member.
To Edit an existing Team Member, click the ••• menu next to their name and select Edit Member.
Create your Public Landing Page
To create your Public Landing Page, click the Actions button in the top right of your nation's Admin Page.
Here you will see a drop-down menu. Click Settings.
Here you can input all the necessary information to create your Public Landing Page.
URL: If your organization has an existing website outside OneFeather, you may input that website's URL here.
Logo and Banner Images: If your organization has a Logo and Banner image you would like to display on your public landing page, you can click "Choose File" and upload these from your computer.
Slug: If you would like your public landing page to have a different URL than you see below, you can input your preferred URL below.
About: This section allows you to write anything necessary for viewers on your public landing page. This should contain all relevant information for voters.
Once complete, click Update Organization.
To see your updated Public Landing Page, click the URL in your nation's Admin Page.
Create your Member List
Adding a New Member
From your nation's Admin Page click Members from the top.
You will be taken to your Member Admin featuring a dashboard of member stats and a list of your current members.
To add a member to your list, click Add New Member in the top right.
Fill in all member details.
Note: if this member is non-voting, please indicate in the drop-down menu under Member Type.

Click Create Membership.

You should see your new member's complete profile.


Member History
To view the complete history of a membership, go to the Member Admin page and select the member from the list.
Select the drop-down arrow on the right and click Member Details.

This will take you to the complete member profile.
Here you can edit the member profile and see the Member History.
Member History is an audit trail of all changes and updates by type of edit, the person making the edit and date of the change. This audit trail is a permanent log that the Member can also see when they visit their profile.
Uploading Members From CSV File
If your nation has an existing CSV file of members, you can upload that directly to your OneFeather membership list.
On the Member Admin page, click the Actions drop-down menu and select New CSV Upload.

For this to work—your CSV file must be organized with specific column headers:

first name
last name
email
birthday - January, 1, 1971 (Date must be in this format to work)
registration id
membership type can be one of the following: standard, non voter, transferring, or other

Here is an example in the CSV File:

Follow the instructions on the page, and click Choose File to upload your CSV member list.
Then click Create CSV Upload.
OneFeather will attempt to read your CSV file correctly. Look over the fields on the page and make sure they match up with the column headings in your CSV file.
Click Continue.
OneFeather will provide three examples of members it read from the list.
Read the members' information to ensure it is correct.
If the information is correct, click Confirm.
If the information is incorrect, click Back and make any necessary changes to how OneFeather has read column headings in your file.
OneFeather will confirm your CSV list is uploaded.
---
Part 3 - Creating a Voting Event
A Voting Event with OneFeather is any event where members cast a vote.
Creating a Voting Event is a 3 Step Process:

Step 1: Edit Details
From your nation's Admin Page, click Elections on the top menu.
You will see a list of all of your nation's Voting Events.
To create a new Voting Event, click Add New Election in the top right.

Fill out the Voting Event details in the form.

You will be able to select Ratification Officers (Election Officers) and Verification Officers based on the Team Members you inputted in Create Your Team.
***Note: Keep in mind that only your Ratification Officer can change voter details at all polling stations, and Deputy Ratification Officers can only change voter details under the polling station to which they are assigned.
Hint: Keep the "Public Link" text you input as short as possible, without spaces, and don't use special characters. When the voting event is created and published, this link will be automatically published to your public landing page.

Remember that this is for electronic voting – the times, dates and details entered here govern the activation of electronic voting parameters.
Physical polling station (like regular polls and advance polls) details are set up in Step 3.
If your voting event does not require electronic voting simply change this option allowing electronic voting from "Yes" to "No".

Remember, OneFeather has tools to manage any voting event even if electronic voting is not used.
In the Description box enter the details you wish to include on the public landing page for your voting event.
Do not click Publish yet
Click Create Election.
An Election Admin page will be created for your Voting Event.

Step 2: Adding Issues
Adding Issues is where you create your Ballot(s) for your voting event. Click the Issues tab on your Election Admin page to create your electronic ballot for your voting event.
Click Add New Issue.
Fill out the form and select the Issue Type.
To add optional answers click Add Option.
The term Option 1 and Option 2 would typically refer to YES and NO respectively as answers to your referendum Ballot question.
You will see a preview of the issue on the right side of the screen.
When you are done, click Save and Continue.
Your Issue will be included in your new Voting Event.
Step 3: Polling Stations
The next step is to add polling stations.
All electronic voting events will show up as polling stations under Stations tab.
But any physical polling stations will need to be added in addition to your electronic polls online.

If you do not have any physical polling locations for a voting event then you can move forward in publishing and taking your electronic voting event live.

In your Election Admin click the Stations tab.
Click Add Location.
You will see a list of existing locations.
Click Add new location.
Fill in the form details.
***Note: Deputy Ratification Officers can only change voter details under the polling station to which they are assigned. Remember this when assigning an officer.
Remember the Opens at and Closes at times are in 24hr clock.
Once a Polling station is entered and used, it remains in inventory for future voting events.
When complete, click Done.


Step 4: Check Details
Now your Voting Event is complete.
To ensure all details are correct, click the Public URL link on your Election Admin page.
This is what the public will see during the Voting Event.
Check for errors. If you spot any, return to Steps 1-3 and make the relevant corrections.
If you are unable to fix errors, seek assistance from support@onefeather.ca
---
Part 4 - Managing the Voting Process
In this section:
Manage Voter Status and Details
Manage Voter Status and Details
OneFeather is an end-to-end vote management solution. This includes managing voter activity.

To do this, go to your voting event's Election Admin page.
Click the Voters tab.
Below your voters' list will be displayed with up to date information on each voter:

Name
Account Status
Registration Number
Date of Birth
PIN
Vote Status

If you are looking for a specific voter, you may search for any name or registry number in the search bar.
This might be useful if a voter status needs to be manually updated, or needs tech support.
When a member has voted online it is automatically updated in the voters' list—indicating the date/time and type of vote (see below).

Manually Change Vote Status
The electoral officer can also manually indicate when a member has voted by Mail-In Ballot.
This can be done by clicking the drop-down menu next to a voter's name, and clicking Voted by mail.

All updates are recorded and updated with OneFeather, so that other electoral officers at multiple polling stations see the voters list updated immediately.

To upload a CSV file containing a list of Mail-in ballot packages sent to voters, click the Actions drop-down menu on the Elections Admin page.
Select Upload Mailin ballot package CSV and follow the instructions.
Manually Input Ballot counts
Once the polling stations have closed, ratification officers can manually input ballot count results of physical polling stations and processed mail-in ballots.
To do this click on the Stations tab in your elections admin page.
Find the relevant source of the vote (either mail-in or polling station).
Click on the drop-down arrow on the right and select the Input option.

You should see something like this.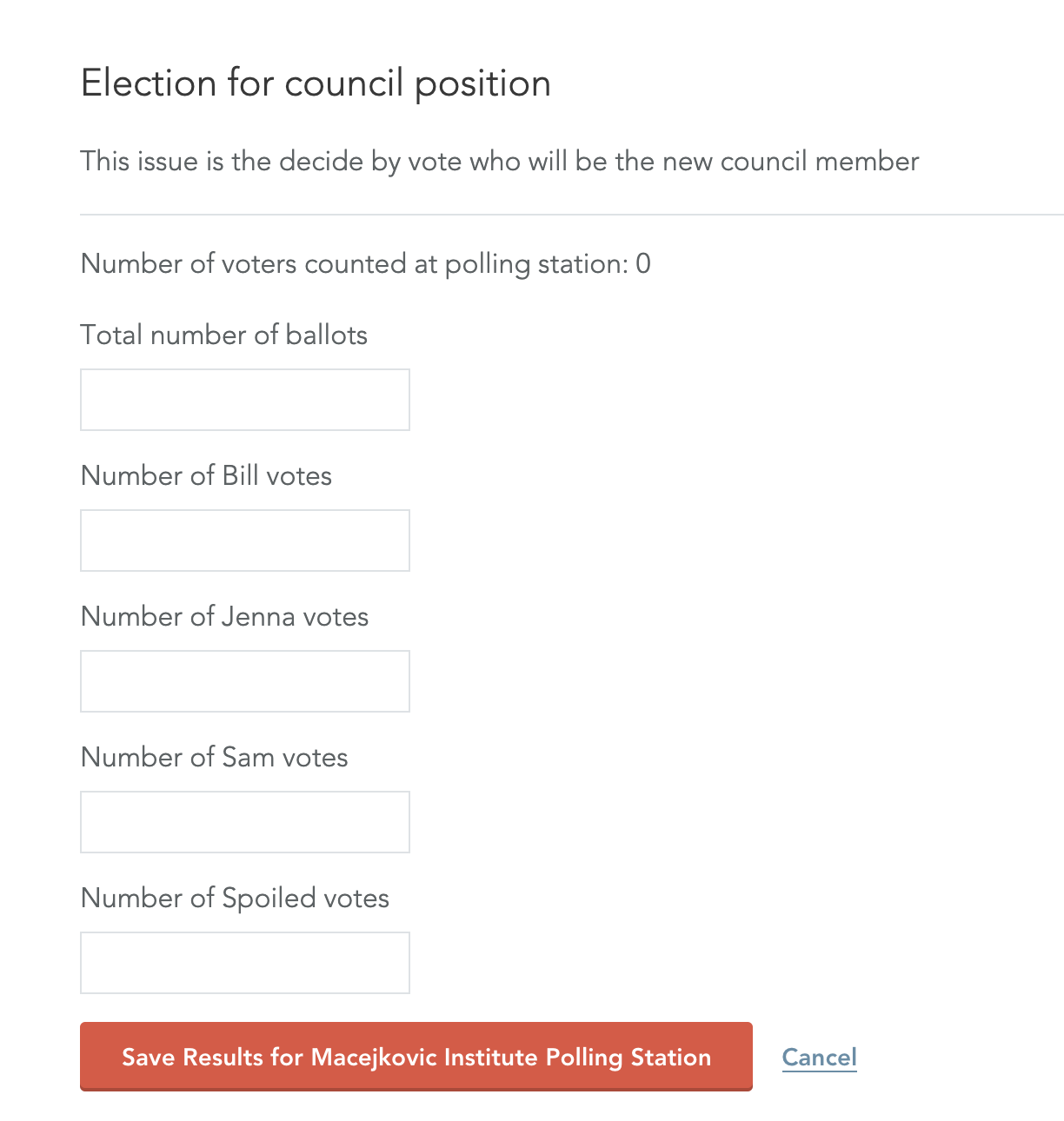 If the page is blank, make sure you have there are no problems with the Issues for the voting event.
Once you have filled all the ballots, click Save Results.

If your ballots you indicate do match the number you have indicated in Total number of ballots, then you will see this.
Recount your ballots and input them again.
You will be prompted to confirm the ballots you have inputted.
Once these ballots are confirmed, the polling station will have a status of Finalized on the Stations tab.

Confirm Ballot Counts
Multiple polling stations can report to OneFeather when polls close.
After all the polling stations are finalized, the Ratification Officer can publish the results but clicking the Results tab, then click Publish Results.
Results can be seen on your nation's public landing page, and will be emailed to all registered voters.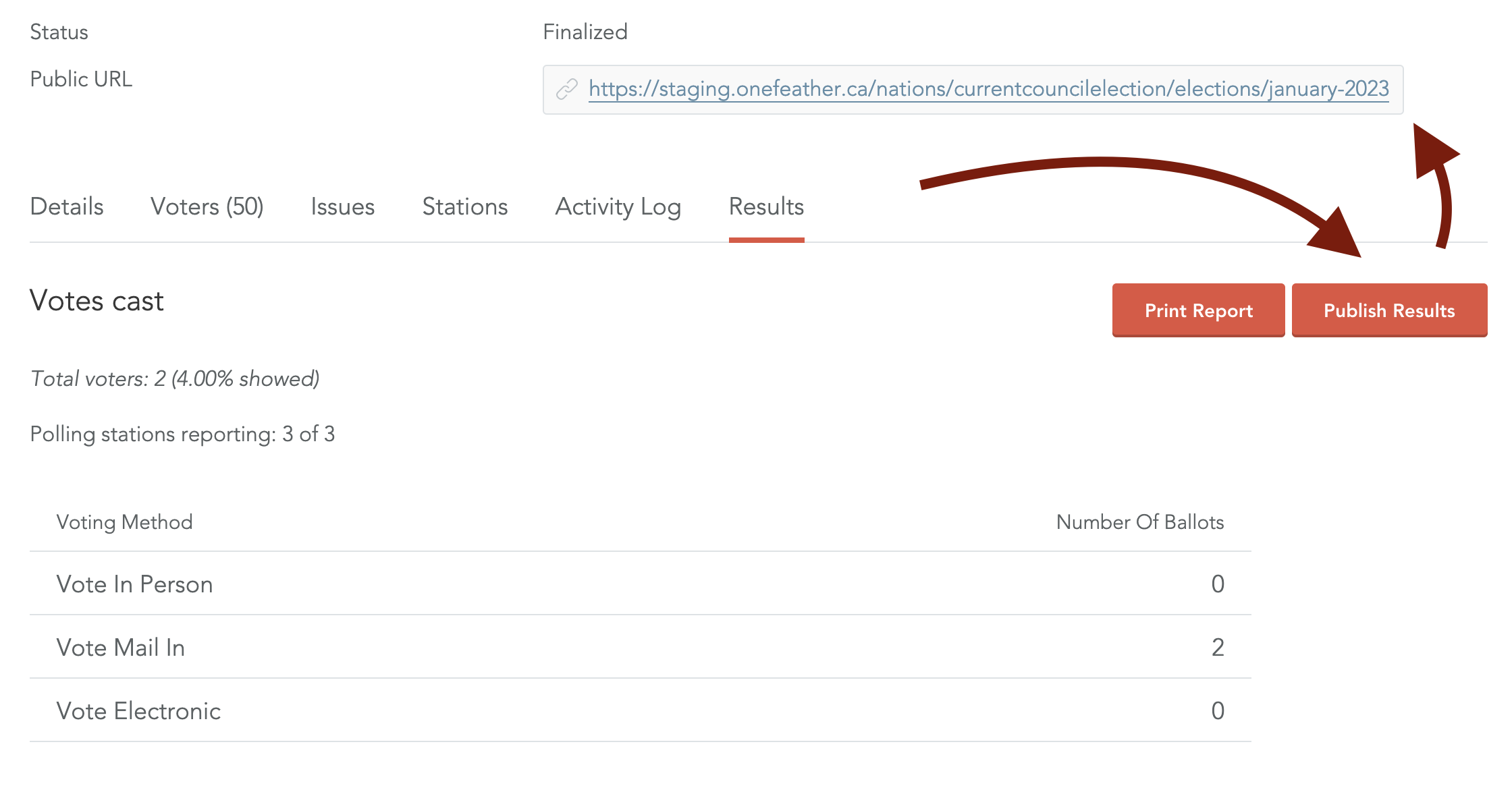 Your voting event is now complete!
If you are still experiencing issues with voting events, please contact support@onefeather.ca