Welcome to OneFeather! We are building technology designed to celebrate and empower your digital Indigenous sovereign identity. Access dedicated Indigenous banking solutions, online status card renewals, and digital voting with your OneFeather account.
On this page:
---
Sign up for a OneFeather Account
A OneFeather Account will give you access to your Nation's voting, allow you to apply for a new Status Card, and connect you with OneFeather Wallet and Pay.

Steps:
To get started, go to OneFeather's Homepage at www.onefeather.ca
Click the red Log In / Sign Up button in the top right, alternatively go directly to members.onefeather.ca/login
In the Email box, enter your email > click Next
In the Password box, enter your password.
In the Password Confirmation box, re-enter your password
Read and review the Terms and Services
Check the box beside I agree to the Terms of Use
Click Create Account
You can change your membership account settings after the account has been setup
---
Select your Indigenous identity
Your Indigenous Identity is unique and we believe your account should reflect that.
Click Ok, I'm Ready!
In the Your Preferred Name box, enter the name you prefer to go by
Select the option that best describes yourself. Note: once this is selected you will only be able to change this by contacting support.

First Nation

Métis

Inuk

I do not identify as Indigenous

Not listed here

Prefer not to say

Click Continue
Your Indigenous identity has now been added to your account.
---
Verify the email address for your OneFeather Account
Once your OneFeather Account has been created you will need to verify your email. If you are uncertain if you have confirmed or not you will see this message when you try and log in.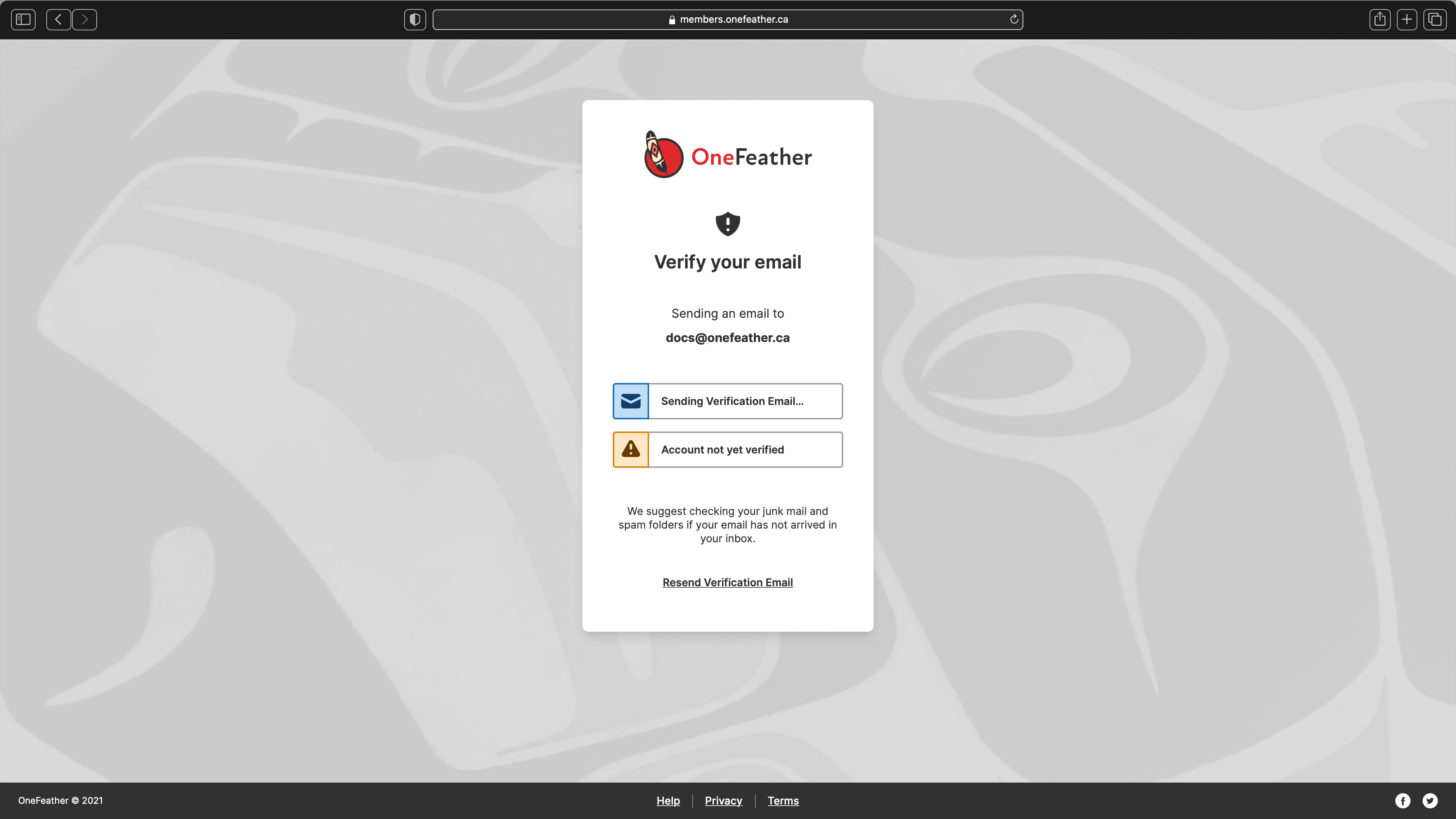 To verify your email go to your email you signed up with
Open up the email with the subject "Please confirm your email address on OneFeather"
Click Confirm Email
This will take you into your membership account and you should see a success message stating: Account confirmed successfully. The account is now setup.
---
Voting with your Nation
Take part in your community elections, ratifications, and other voting events from home when your Nation enables OneFeather digital voting. Vote confidently knowing your vote is secure, anonymous, and confidential.


Steps:
To get started go to the onefeather.ca homepage
Click the red Log In / Sign Up button in the top right, alternatively go directly to members.onefeather.ca/login
Log into your account
Click on Vote Now under Digital Voting


You can now take part in your community by voting online.
---
Apply, renew, or replace your SCIS (Status Card)
With our submission process, you can renew, replace or apply for your SCIS (Status Card) with OneFeather.
Steps:
To get started go to the onefeather.ca homepage
Click on the Vote Now button in the top right
Log into your account
Click on Apply Now under Status Card Applications


You will now be able to start your SCIS (Status Card) application.
---
Download the OneFeather Wallet
With the OneFeather Wallet you will be able to get your contactless, reloadable OneFeather Pay card from inside the app and start earning 1FTs (OneFeather Token Rewards points). 1FTs, our Indigenous-only Rewards, redeemable for OneFeather Services and in our Indigenous marketplace coming soon.
Steps:
To get started go to the onefeather.ca homepage
Click on the Vote Now button in the top right
Log into your account
Click on Download the app under Banking
Scroll down to the bottom of the page select you app store preference
Download the app from the Apple App Store or Google Play Store


Once downloaded you can sign up for the OneFeather Wallet card, send money transfers, and earn 1FT Rewards all in one convenient app.