On this page:
---
Digital voting step-by-step guide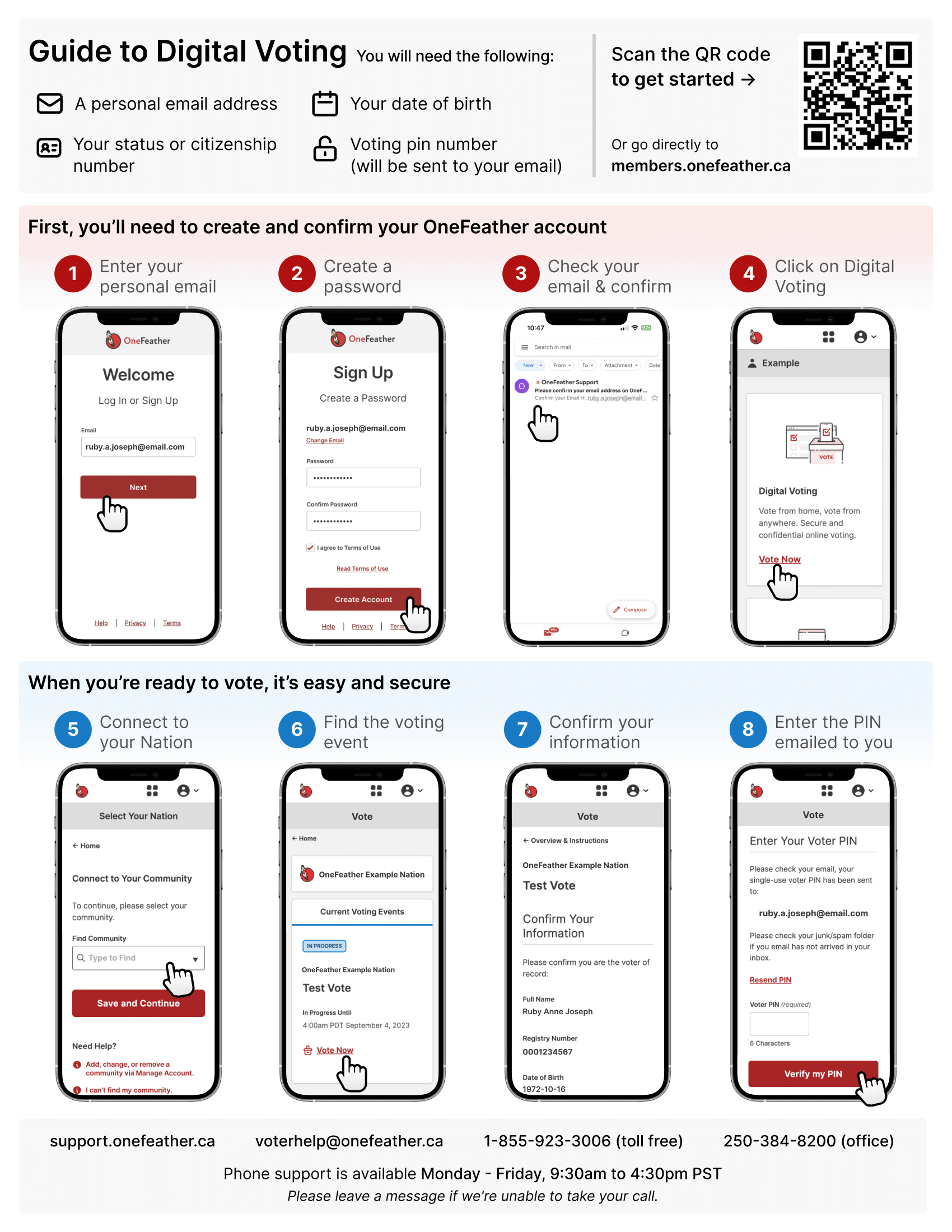 ---
How to register / Confirm your identity
On the top right of the OneFeather.ca homepage click, Vote Now

Sign into your OneFeather account if you have not done so already or sign up for OneFeather account

Click, Vote Now on the

homepage

Scroll down to the current voting events, click Vote Now on the event you wish to vote in
If you haven't confirmed your membership, you will need to before you can vote in the election event

Click Confirm Membership
In the Registry Number or Membership Number box, enter your ten-digit registry number or your membership number
In the Date of Birth dropdown, select your date of birth
Click Confirm Membership

Click Vote
Review the overview and instructions
Review your voter information on record
Check the "I confirm that I am a registered Nation Name voter and will be 18 years of age or older on or before end of election date" checkbox
Click, Confirm and Continue
Enter your voter PIN into the Voter PIN text box emailed to the email address you use for OneFeather. This will have the subject line "Your voting information for Nation Name election"
Click, Verify my PIN
You are now ready to start voting in your Nation's election.
---
How to cast a ballot
Read over the ballot
Make your selection(s) for the ballot


If you need to clear your ballot, click, Clear my ballot

Click, Next
Repeat steps till you have completed voting on every ballot
---
How to spoil a ballot
A spoiled ballot is a ballot that has been intentionally left blank.
Read over the ballot
Do not make a selection
Click, Next
Your ballot will now be spoiled. You can learn more about spoiled ballots here.